Third Saturday - Telford's premier ecumenical worship and fellowship events.
(Looking for Getting Serious? Click here)
Forthcoming dates for your diaries...
(For recent events click here.)
Make a date for January 15th 2005
What would it be like to see all four Gospels performed in just an hour and a half by just one person! Eric Petrossian is a Christian actor and stand-up comedian who does exactly that. Using the text from the NIV he plays all the characters himself in his own play Kingdom Come: The Life of Christ
Venue: St. Michael's Church, Church St. Madeley TF7 5BN
Tel: 01952 585718 for info.
e-mail: theoffice@firenet.uk.net
Admission FREE
Click here for poster.



Third Saturday is now replacing "Getting Serious" as the premier regular ecumenical event in Telford (return to top to see forthcoming events)
We've done quite a variety of things together as churches in south Telford:
we've enjoyed a variety of speakers;
we've looked at Christian art together;
we've celebrated communion in different ways;
we've engaged in peace and meditation;
we've prayed and praised together;
we've sung together;
we've even staged a DIY passion play!
We've listened to the feedback you've given us and now we're happy to announce the launch of Third Saturday - a bi-monthly worship and teaching event kicking-off with Ishmael's visit in November. Look out for details of more Third Saturday events as they are announced.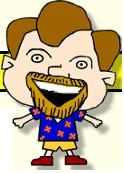 November 20th Ishmael brought a children's Praise Party during the afternoon and then spoke at our evening celebration at Dawley Christian Centre.
We all enjoyed it so much, there's a possibility of another visit in 2005 - watch this space!
(return to top to see forthcoming events)